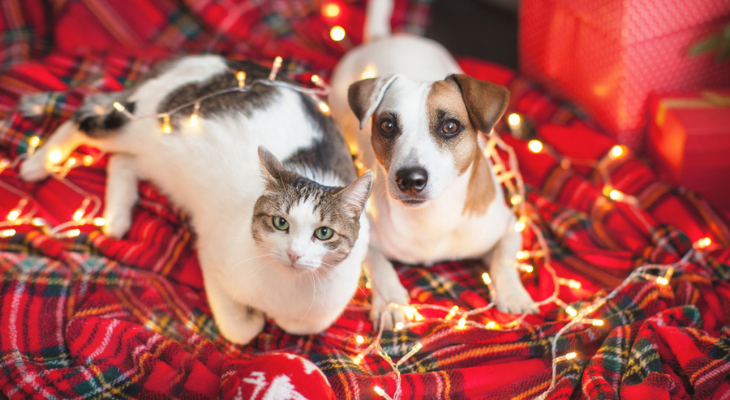 Keeping Your Pet Safe During the Holidays
Although the holidays may be a magical time for you, your pet might have a very different experience. In fact, our furry friends may be more likely to become sick or injured in their homes during the holiday season. Fortunately, following these tips will help both of you enjoy a peaceful, happy holiday.
Tip #1: Put an Identification Tag on Your Pet
Dogs and cats can slip out the door in an instant. With so many people coming and going during a holiday party, you may not immediately realize that your pet is missing. Unfortunately, by the time you do notice, your dog or cat could have traveled far from your home.
Adding an ID tag to your pet's collar will make it easier for your neighbors to contact you if they find your pet. Microchips, rice-sized identification chips implanted under your pet's skin, offer even more protection, particularly if a lost pet is taken to a veterinary office or animal shelter. Only 15% of dogs and 2% of cats without tags or microchips are ever reunited with their families, according to American Humane.
Tip #2: Use Battery-Operated Flameless Candles
Lit candles add a little ambiance to your home during the holidays but may not be the best choice if you have pets or small children. Your pet could burn itself on the flame or knock over the candle, causing a fire. Flameless candles flicker just like real candles but are a much safer option.
Tip #3: Think About Christmas Tree Safety
Does your pet enjoy chewing on holiday light cords? Unfortunately, that habit could shock or burn your dog, cat, rabbit, or small animal. Put lights on the upper part of the tree only if your furry friend is a chewer. Wrap cords in cord protectors for additional protection.
Cuts caused by broken ornaments are a definite possibility if your dog or cat enjoys batting at ornaments on the tree. Solve the problem by leaving the bottom half of the tree undecorated or putting your decorated tree behind a baby gate. Reduce the risk of cuts by only using unbreakable ornaments. The ornaments are often just as attractive as fragile glass decorations but won't shatter if they fall off the tree.
Although a cat or dog atop a toppling Christmas tree makes a funny video for social media, falls can be dangerous for pets. Anchoring your tree to the wall with wires and screws will prevent disaster if your pet can't resist climbing your tree.
Tip #4: Keep Tinsel and Wrapping Materials Away from Pets
Tinsel and ribbon can wrap around your pet's intestines or cause a blockage if swallowed. It's best to skip the tinsel if you have a pet. Be sure to put holiday paper, ribbon, twine, and other materials away as soon as you finish your gift wrapping session.
Tip #5: Create a Safe Haven for Your Pet
Even the friendliest pet can become a little overwhelmed by a noisy holiday party. Your dog or cat may enjoy the gathering much more if you put its bed, food, and water in a quiet room far from the action.
Tip #6: Keep These Foods and Plants Out of Your Pet's Reach
Some holiday foods and plants could cause illness or even death if eaten by pets. Keep these things away from your pet:
Chocolate
Onions
Garlic
Yeast
Grapes
Raisins
Bones
Raw eggs
Nuts
Apple seeds
Holly
Mistletoe
Lily
Amaryllis
Christmas cactus
Alcoholic beverages
Cherry or peach pits
Candy and foods sweetened with xylitol
Contrary to popular belief, poinsettias are only mildly toxic to dogs and cats and may only cause diarrhea and vomiting, according to the Pet Poison Helpline.
Tip #7: Don't Let Your Pet Drink Christmas Tree Water
Water is just as tasty whether it's in a pet bowl or your Christmas tree holder as far as your pet is concerned. Unfortunately, drinking the water could sicken your dog or cat. The ASPCA notes that fertilizers from the tree might contaminate the water or bacteria could form in the stagnant water. Tape aluminum foil over the top of the holder to stop your pet from sipping the water.
Holiday mishaps can happen even if you're extremely careful. If your pet becomes sick or injured this holiday season, we can help your furry friend feel much better. Contact our office to schedule an appointment for your pet.
Sources:
American Humane: Every Day Is Tag Day - Is Your Pet Protected, 4/1/19
Pet Poison Helpline: Poinsettia
Humane Society of the United States: Holiday Safety Tips for Pets
American Veterinary Medical Association: 7 Ways to Make the Holidays Safer for Pets