We're pleased to offer the following services at Blackstone Animal Clinic: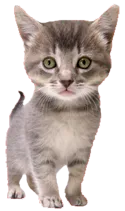 Our appointment book is computerized, which allows us to efficiently make appointments for you and your pet. Our receptionists and team will attempt to accommodate all requests to the best of our ability. Emergencies are accepted anytime our clinic is open. Depending on the severity of the problem, we may have to refer you to a specialty hospital. In this case, we will perform the medical measures needed to stabilize your pet for the transfer. If you feel you have an emergency with your pet, and it is possible, call before coming in so that a staff member can advise you how to proceed with your particular emergency.
Emergencies:
During regular business hours, emergencies will, of course, be seen on a priority basis.
Due to staffing constraints, Dr. Carr is unavailable to see after hours emergencies. For after hours emergencies, we recommend Virginia Veterinary Centers - Cary Street location 804-353-9000 or Midlothian Location 804-744-9800. Due to COVID, staffing has been a huge issue in the Veterinary World. Please call before going to either clinic to be sure they are able to see you and your pet.
Boarding:
Blackstone Animal Clinic offers cat and dog boarding. Our feline guests enjoy the comfort of luxury condos in a "cats only" setting. Our canine friends can enjoy a variety of suites to fit all shapes and sizes. We provide food, bowls, beds and bedding, leashes, litter pans and litter to our pet guests. You may want to bring your pet's own food if they are a finicky eater or are on a specially prescribed diet.
Individual play times may be scheduled, too. Ask for details about our Play Pal Program.
All dogs must be current on Rabies, Distemper/Parvo, Bordetella & K9 Influenza vaccinations. Cats must be current on Rabies and Feline Distemper. In some cases, these vaccinations may be updated during your pet's stay.
Drop off and pick up hours are between 8:00 am and 5:00 pm, Monday thru Friday.
Grooming:
Minor grooming, such as bathing and nail trimming, are offered daily. These appointments can usually be scheduled within the same week of calling.
Sedation grooming is offered to those pets that must be completely sedated for grooming. Please call for further information.
Appointments & General Medicine:
Appointments are available Monday through Friday. Along with routine exams and vaccinations, we also offer in house lab work and digital radiographs.
Appointments are preferred for everyone's convenience, but we are happy to accommodate walk ins if time allows.
Surgery Appointments:
Surgeries are performed Monday through Thursday. Surgery patients will be scheduled an admission appointment the day of surgery. Admissions start at 8:00am and continue until 9:00am and take about 15 minutes.
Consent and surgical release forms will need to be filled out during this appointment. If someone other than the owner will be bringing the pet in for surgery, we request that the owner come by the office prior to the appointment to complete the required paperwork. We can also fax, email or mail the forms if that is more convenient.
Euthanasia & Hospice Care
Seeing a beloved pet suffer is difficult enough, but making the decision to euthanize that family member stands alone in degree of difficulty. The only saving grace in this situation is not having to face it alone.
Our caring and compassionate staff can help you through the final life stage of your pet. In terminal cases, sometimes all the heroics in the world are not enough, but we can help manage your pet's pain and make them more comfortable. You may find the Quality of Life scale on the Navigation Bar helpful, or possibly a private talk with one of our caring doctors is best. No matter how difficult the conversation, we are here to help you make the very best decisions for your faithful friend.
Microchip
Animal shelters and veterinarians are finding microchips in more and more pets. Pet owners have been reunited with microchipped pets that have been missing for years or that have travelled many miles from home. The microchip is implanted under the skin with a hypodermic needle, just like any other shot. After your pet is microchipped, your information is uploaded to a National Registry, so you can be contacted should your pet become lost.
Laser Therapy
Laser Therapy is a drug free, surgery free advanced treatment for pain relief. Class IV K-Lasers deliver specific red and near-infrared wavelengths of laser light to induce a therapeutic effect within the body. These effects include increased circulation, decreased swelling, reduction of pain and enhanced tissue repair. Laser therapy has been used in Europe since the 1970s and was cleared by the United States Food and Drug Administration in 2002.